Home
Nature

a

nd Landscape
Underwater
Show Schedule
The Store
What's New
Resource Page
Copyright ©2000-2015
The content of this site, including the text and photographs, are the exclusive property of Steve Fredrick.
This means you are welcome to view and enjoy; however, you do NOT have rights to copy, store, print, or republish any of the content without the written permission of Steve Fredrick.
Let me know what you think about the site or the images. Send me an email .
Welcome to my photography site. I photograph both above and below the surface of the water. My wife and I live in Southeastern Pennsylvania, near Philadelphia PA and Wilmington DE.
We enjoy scuba diving. We do most of our local diving off the coast of Delaware, Maryland and Virginia . In addition to local diving, scuba diving has taken us to many different, and a few remote, parts of the world.
The images seen here are made with a variety of tools. Above the water, I most often use a DSLR with lens ranging from 12mm to 500mm. Above water I am currently using the Nikon D610 full frame Nikon D7000 crop factor cameras. Underwater I'm still shooting a D200 in an Ikelite housing with Ikelite strobes. My favorate lens underwater are 12-24mm for close-focus wide angle and 105 mm for close-up/macro.
The editing of my image files, be they directly from a digital camera or from a scanned slide, is limited to minor enhancement. By enhanced I mean the image was changed by performing functions analogous to what traditional photographers do in the dark room. These could include changing brightness, contrast, color saturation, or cropping. This is what many are calling the digital dark room.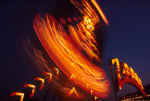 Using photo editing software to enhance an image is much different than using it for image manipulation or making digital art. Manipulation takes the use of editing software tools one big step further--actually changing the original scene by adding elements of composition. And while I'm on a full disclosure theme, all of the wildlife images on these pages are of animals in the wild unless explicitly identified as being a captive subject.
I have attempted to keep the organization and content of this site simple so that the pages load fairly quickly. Like my photography itself, this site will remain a work in progress. If you only have a short time to review this site be sure to check-out my Recent Work.
I hope you enjoy your stay here. Now you have to make a choice to visit above or under water galleries.
Nature and Landscape Photography