Home
Up
Copyright ©2000-2011
The content of this site, including the text and photographs, are the exclusive property of Steve Fredrick.
This means you are welcome to view and enjoy; however, you do NOT have rights to copy, store, print, or republish any of the content without the written permission of Steve Fredrick.
Let me know what you think about the site or the images. Send me an email .
Delaware State's Covered Bridges
There are two covered bridges remaining in Delaware. Both are near Wilmington in New Castle County. One crosses the Red Clay Creek and the other crosses Brandywine Creek. Until the fall of 2003 there were two covered bridges that crossed Red Clay Creek.
Red Clay Creek
Ashland Covered Bridge
Unlike the majority of bridges in Chester County PA that used the Burr Truss; Ashland Covered Bridge utilize the Town or Lattice Truss.
Wooddale Covered Bridge
This is what Wooddale Covered Bridge Looked like prior to being destroyed by flood in September of 2003. Unfortunately, for the time being, I am not aware of any plans to rebuild it.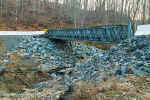 This is the replacement bridge that has been put in. I guess it's functional, but it is not nearly as esthetic.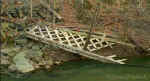 As of February 2005 this is what was left of Wooddale Covered Bridge. It is part of the bridge's original Lattice Truss.

Brandywine Creek
Smith's Covered Bridge
When the state replaced the bridge over the Brandywine on Smith Bridge Road, they replaced it with a replica of the original covered bridge that was destroyed by fire (arson) in the '80s.
To view pictures of bridges in Chester County, PA; follow the following links.

Northeast Chester County Central Chester Co. Southern Chester Co

Or use these to go back to